Life Extension Conference 2005
More than 150 people attended the first Immortality Institute Life Extension Conference in Atlanta, GA on Nov 5, 2005.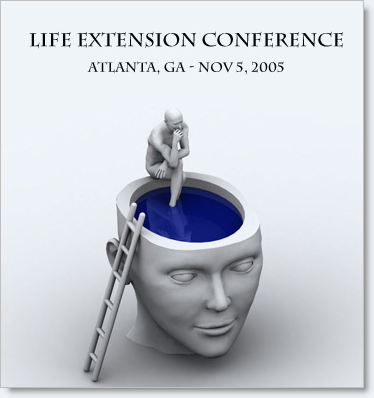 CONFERENCE SUCCESS!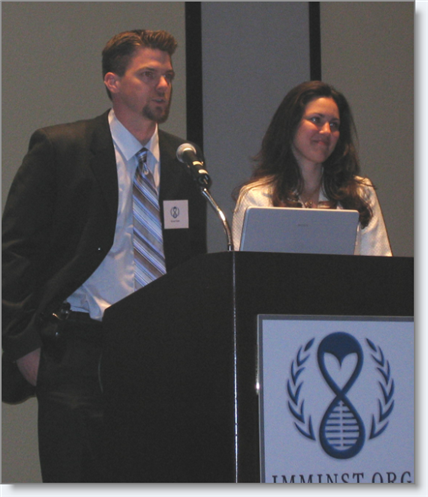 Bruce Klein & Susan Fonseca-Klein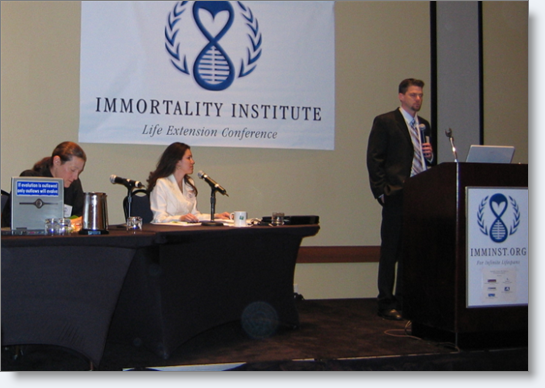 Conference
Immortality Institute's Life Extension Conference
Atlanta, GA - Sat. Nov. 5, 2005 (one full day)
Theme
Enhance and Protect the Brain for Life Extension
Focus
Hosted at GA Tech's modern Conference Center in downtown Atlanta, this full day event will focus on the human brain and life extension. Speakers will present advanced ideas and methods in anti-aging, artificial intelligence, cryonics, brain-computer interfacing and more.

Awards for the Immortality Institute's Essay Contest, The Oblivion Question, will be presented.

Screening of the Immortality Institute film, Exploring Life Extension, will take place at the conference.
Schedule
Sponsors
| | |
| --- | --- |
| | $5,000 Gold Sponsor |
| | |
| | $4,000 Dinner Sponsor |
| | |
| | $3,000 Silver Sponsor |
| | Gary C. Hudson, CEO, HMX Inc. |
| | $2,000 Bronze Sponsor |
| | |
| | $1,000 Patron Sponsor |
| | |
| | Media Sponsors |
| | Betterhumans is an editorial production company that's dedicated to having the best information, analysis and opinion on the impact of advancing science and technology. |
| | The Longevity Meme is a non-profit organisation, founded in mid-2001. Our goal is to encourage achievable technologies, lifestyles and other means that will help people live comfortably, healthily and capably for as long as they desire. |
Speakers
Aubrey D.N.J. de Grey, Ph.D.
Research Associate; University of Cambridge - SENS ( Strategies for Engineered Negligible Senescence) a detailed plan for curing human aging - ImmInst Book Contribution - ImmInst Chat

Eliezer Yudkowsky
Director, Singularity Institute For Artificial Intelligence - Creating Artificial Intelligence - ImmInst Chat

Michael R. Rose, Ph.D.
Professor in the Department of Ecology and Evolutionary Biology at the School of Biological Sciences, University of California, Irvine; Author of Evolutionary Biology of Aging- ImmInst Book

Peter A. Passaro
Laboratory for Neuroengineering; Georgia Institute of Technology - Multielectrode array culture, neural signaling,interfacing biological to artificial systems such as robotics and virtual environments - ImmInst Article - ImmInst Chat

Brian Wowk, Ph.D.
Ph.D. in Medical Physics from the University of Manitoba, Canada; Senior Scientist 21st Century Medicine, Inc.; Published a number of articles on medical physics, vitrification and cryopreservation - ImmInst Book

Ralph C. Merkle, Ph.D.
Distinguished Professor of Computing; Georgia Tech College of Computing; Board Member, Alcor Life Extension Foundation - Cryonics and Nanotechnology

Rudi Hoffman, CFP
Independent Certified Financial Planner and world's leading cryonics signup specialist, Hoffman has helped hundreds of people make cryonics affordable through insurance - ImmInst Chat

Charles Platt
Director of Suspended Animation Inc. Author of many popular science fiction novels, co-founder of CryoCare and former director of suspension services for Alcor Foundation - ImmInst Chat

Ben Best
President of Cryonics Institute will speak on Cryopreserving the Brain, including challenges posed by dementia, stroke, vitrification and ischemia. - ImmInst Book Contribution

Natasha Vita-More BFA, MA
Cultural strategist and designer. As a futurist, she consults for such companies as IBM, NESEA Building Energy 2005, EU Cumulus, and the Telluride Institute. Vita-More is President of Extropy Institute and a member of the World Future Society and Association of Professional Futurists - ImmInst Chat

Max More, Ph.D.
Founder, Extropy Institute. Strategic futurist who writes, speaks, and organizes events about the fundamental challenges of emerging technologies - The Diachronic Self - ImmInst Chat

Brad F. Mellon, Ph.D.
Dr. Mellon has a Master of Divinity degree from Biblical Theological Seminary, a Master of Sacred Theology degree, and is aDoctor of Philosophy in Hermeneutics from Westminster Seminary. Director of Pastoral Care for the Frederick Mennonite Community - ImmInst Book Contribution

Immortalizing Brains, Mind and Selves

Ben Goertzel, Ph.D.
CEO of Biomind LLC and Novamente LLC and and former founder of Webmind Inc., Ben discusses from the perspective of a unified theory of mind the "Immortalizing of Brains, Mind and Selves" by way of AI, neuromodification and gradual uploading - ImmInst Chat

Optimal Health Medicine

Christopher B. Heward, Ph.D.
Ph.D. in Biology from the University of Arizona; Senior Research Fellow in the UCLA Program on Medicine, Technology, and Society; President of Kronos Science Laboratories, Inc. subsidiary of Kronos Company. The Kronos Optimal Health Centre is focused on the science of healthy living and aging.

Neurological Remediation

James J. Hughes, Ph.D.
Author of Citizen Cyborg and Sec. of the World Transhumanist Association - Neurological Remediation and the Shifting Boundaries of Death - ImmInst Chat

Legal Rights of Conscious Computers

Martine Rothblatt, Ph.D., J.D., M.B.A.
Responsible for launching several satellite communications companies including Sirius and WorldSpace. Founder and CEO of United Therapeutics. Lead the International Bar Association's project to develop a draft Human Genome Treaty for the United Nations. Founder of the Teresem Movement. Filed the first court motion on AI Legal Rights.

Conference Chair
Bruce J. Klein
ImmInst Chair
Conference Emcee
Susan Fonseca-Klein
ImmInst Director
Location
Georgia Tech's Hotel & Conference Center
800 Spring St NW, Atlanta, GA, 30308
404-347-9440
Directions
Directions to the Conference Center
[Map no longer available.]
(S)=Super 8 Motel, (H)=Howard Johnson, (B)=Best Western, (Hostel)
Suggested Accommodations
$66/night - 0.96 mi from Ga Tech Conf Center
Super 8 Motel Congress Center
111 Cone Street N.W.
Atlanta GA 30303
800-664-6835 - MORE INFO - BOOK ROOM

$96/night - 1.13 miles from Ga Tech Conf Center
Howard Johnson Plaza Suites
54 Peachtree Street
Atlanta GA 30303
800-444-6835- MORE INFO - BOOK ROOM

$132/night - 0.65 miles from Ga Tech Conf Center
Best Western Inn At The Peachtrees
330 W Peachtree St NW
Atlanta GA Us 30308
800-664-6835- MORE INFO - BOOK ROOM

$186/night - located at Conf Center
Georgia Tech Hotel and Conference Center
800 Spring St NW
Atlanta GA Us 30308
800-346-8357- MORE INFO - BOOK ROOM

For Students: inexpensive Hostel one mile from Conference Center
Attractions
The day after the conference, Sunday Nov 6 at 10 AM, all conference participants are welcome to meet at the CNN Center to talk, eat lunch and/or take the 50 min. CNN Studio Tour ($10).
Contacts & Updates
Complete the following form to send feedback or to sign up for Email Updates. [Contact form no longer available.]