Articles
Aging & Disability in the City of the Future
By Jimmy Adams:

From Wikipedia: "The Little Old Lady from Pasadena" was an imaginary icon of the period based on the local folklore premise that Pasadena, California was a city with one of the largest death rates in the nation. Many elderly couples retired to Pasadena in the 1920s, 1930s and 1940s as refugees from the Dust Bowl, refugees of the Great Depression, and refugees of post-World War II. After a time the husband died, and the widow was left with the home. In the garage would be the man's car, that in most cases, she didn't drive - an old Buick Roadmaster, or a 50-some-odd Cadillac, a vintage Ford, an old Packard, Studebaker, De Soto, La Salle. Used car salesmen were often spoofed as saying the previous owner was "a little old lady from Pasadena who only drove it to church on Sundays," thus suggesting the car had been only gently used.
Will the future repeat itself in more and more cities as baby boomers age and die? What can cities do to help the elderly? In Popular Science (July, 08) is an article; "Green Megalopolis". The article states that: "Later this year, for the first time in history, more than half the world will live in cities". The World Health Organization (WHO) states in "New guide on building age-friendly cities" that "Today around 75% of all older people living in the developed world are urban dwellers- expected to increase to 80% in 2015. More spectacularly, in developing countries the number of older people in cities will increase from 56 million in 2000 to over 908 million in 2050." That is an increase of 1,620% in 50 years. What can cities do to make life easier for the seniors?
---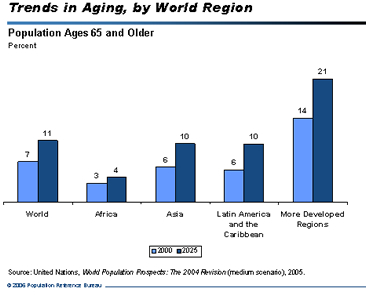 ---
Chronic diseases will occur more often as baby boomers age. Cities must do more to aid the population by making the cities "friendly". WHO suggest common features such as:
* Well-maintained and well-lit sidewalks;
* Public buildings that are fully accessible to people with disabilities;
* City bus drivers who wait until older people are seated before starting off and priority seating on buses;
* Enough reserved parking spots for people with disabilities;
* Housing integrated into a community that accommodates changing needs and abilities as people grow older;
* Friendly, personalized service and information instead of automated answering services; easy-to-read written information in plain (and multiple) language(s);
* Public and commercial services and stores in neighborhoods close to where people live, rather than concentrated outside the city;
* And a civic culture that respects and includes older persons."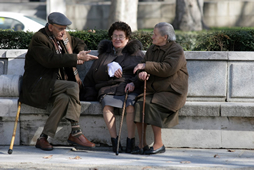 These plans will help make the cities an enjoyable place to live. Diet and exercise can reduce diseases such as cancer, heart disease, hypertension, stroke, mental disorders and other chronic diseases and pulmonary conditions. Even more importantly, initiatives such as the The Longevity Dividend could dramatically reduce the burden of chronic diseases by doing research to slow aging.
"We already place a high value on both quality and length of life, which is why we immunize children against infectious diseases. In the same spirit, we suggest that a concerted effort to slow aging begin immediately – because it will save and extend lives, improve health, and create wealth." The Longevity Dividend - S. Jay Olshansky.
These cities could have monitoring robots and other forms of controls to ensure the public safety while respecting the privacy of the individual. For example, if a person had a heart attack at a sub-way station, a personal bio-monitor will sound an alarm and there could be medical personnel available at a moment's notice.
Links:
Japan looks to robots for elderly care
Pacemakers with home monitoring technology
Telemedicine improves healthcare access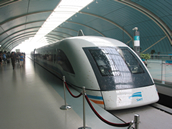 Cities using "green megalopolis" technologies such as electric pod vehicles, maglev-trains, vertical farms (which grow food locally) will help the environment and provide a cleaner and healthier place to live. These developments could also produce a more free society and hopefully reduce crime - because of the new job opportunities these cities will create. A "green megalopolis" could also be effectively planned to prevent overcrowding as this can lead to higher stress and crime. Intelligent planning of neighborhoods can preserve ethic diversity as seen in contemporary places such as Chinatown, Greek City, or Little Italy - allowing people to celebrate their heritage.
So what about the "Little Old Lady" (From Pasadena)? Will she be able to move more freely across the "Eco-tropolis" without fear of crime, or chronic diseases in a clean, healthy city? The future looks bright. "Go Granny, Go Granny, Go Granny Go..."